Sidemen FC beat YouTube All-Stars 8-7 as 2.4 million people tuned in to watch the Sidemen Charity Match,
Sidemen FC and YouTube Allstars prove football can be a success without any pros involved. An incredible 25,000 supporters turned up at the Valley, while 2.6million viewers watched the likes of KSI and Chunkz in action in a thrilling match through a live stream while An incredible 18m tuned in over the first 24 hours.
It was the Sidemen FC who ran out 8-7 winners – but it was the charity that was the real winner. Both sides managed to raise over £1 million for Campaign Against Living Miserably, Teenage Cancer Trust, Rays of Sunshine and M7E
This was the fourth charity football event organized by the YouTube group. The first three matches were held consecutively between 2016 and 2018. With the conclusion of the latest one, Sidemen have now clinched three of the four clashes against YouTube's finest.
The match was highly entertaining. Not only did fans get to see some of the biggest creators try out their skills on the field, but they were also treated to an absolute goalfest. With over 15 goals scored, this has been one of the most prolific and enthralling charity matches in recent years.
Squad Played in Sidemen Charity Match.
Sidemen FC
KSI, W2S, Zerkaa, Vikkstar, TBJZL, Behzinga, Miniminter, Mrbeast, Karl Jacobs, Chrismd, Pieface, JME, Lazarbeam, Manny, Raandolph, Callux, Calfreezy.
YouTube All-Stars
Niko Omilana, Yung Filly, Cal the Dragon, Harry Pinero, Chris Tyson, Ishowspeed, Noah Beck, Deji, Theo Baker, Chunkz, Jidion, Castro, AnesonGib, Chandler, Danny Aarons, Georgenotfound.
KSI on the Sidemen Charity Match
KSI gave his thoughts to Sky Sports ahead of yesterday's game as they prepared to step out in front of a sold-out stadium in Charlton.
He said: "It's incredible [the atmosphere], 27,000 people screaming, shouting, raring to go, everyone's buzzing.
"10 years ago we were in our bedrooms playing Fifa pretending to be our favourite footballers.
"I didn't expect to ever be on a pitch, or to be able to do boxing or music or whatever I'm doing. I didn't expect any of this."
Charity Match Highlight
The match started off with the YouTube All-Stars getting a quick 2-0 lead inside 10 minutes courtesy of goals from two Beta Squad members, Chunkz and Niko Omilana. Vikkstar123, arguably the unlikeliest of goalscorers, pulled one back in the 12th minute.
Following that, fans were treated to an absolute thriller of a contest, with both teams exchanging blows every few minutes. Twitch streamer and YouTuber Tobi scored the equalizer for the Sidemen in the 18th minute. Three more goals were struck by the end of the first half (Yung Filly 26′, Miniminter 32′ and Theo Baker 41′).
The goals didn't stop there as the second half followed a similar trend. Quick strikes from Tobi (48′), Castro1021 (50′), Miniminter (66′), ChrishMD (70′), Niko Omilana (72′), WillNE (80′) and Manny (85′) took the scoreline to a ridiculous standstill at 7-7.
With penalties looking inevitable, Miniminter produced the winner for Sidemen FC by lobbing the keeper from outside the penalty area in the 87th minute.
Miniminter received Man of the Match for 3 Assists and 3 Goals in the Sidemen Charity match.
FULL TIME & SDMN FC TAKE THE WIN

WHAT A GAME! ❤️ #SidemenCharityMatch pic.twitter.com/gMF43RGotS

— Sidemen Charity Match Updates (@sdmnfcupdates) September 24, 2022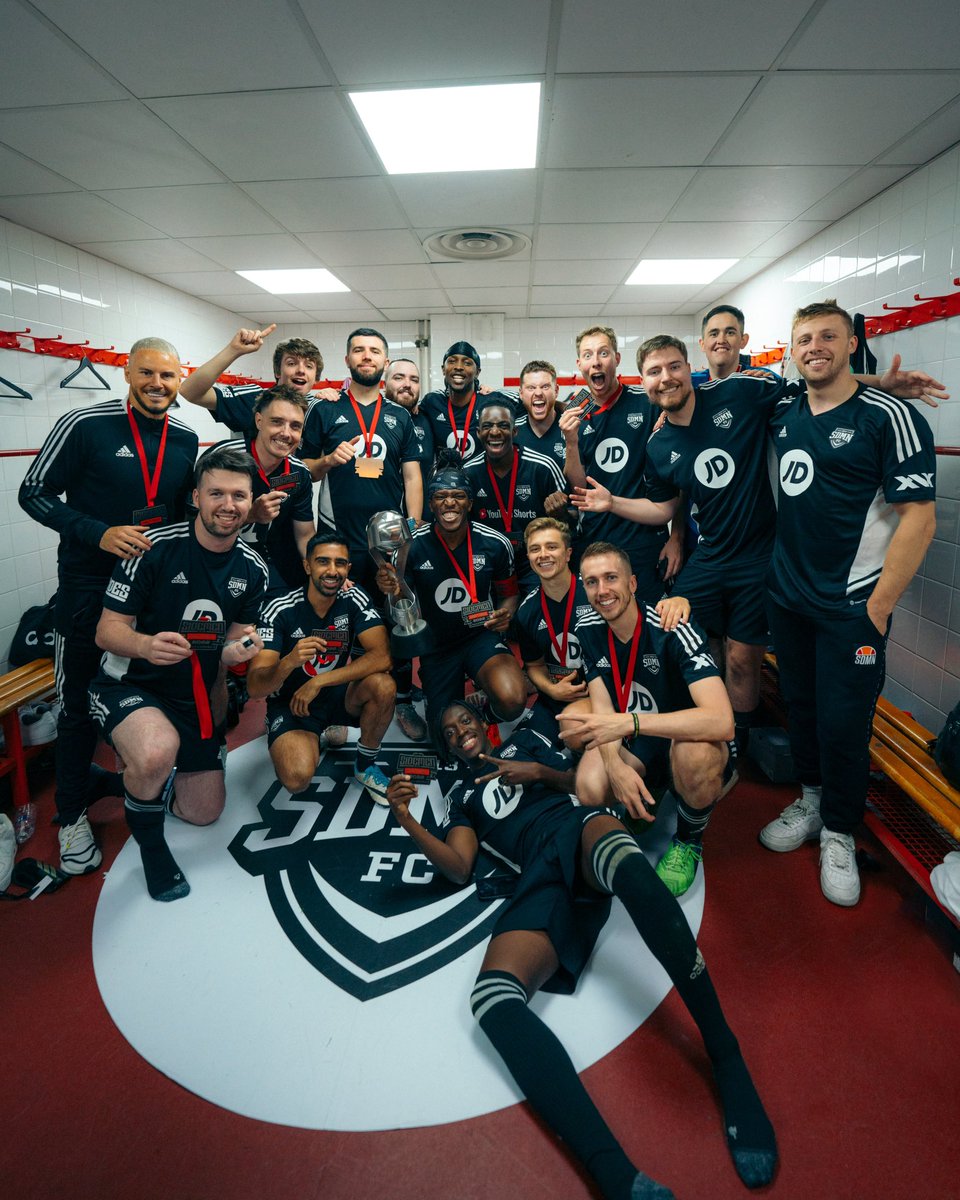 This Was the Entire Coverage of Sidemen Charity Match is Bought to you By City Hawks Foundation, Fauji Farms, Shaurya Loans
Sportsfeed is Powered by hyCorve Limited.